Bringing the Ultimate Musical Experience to Your Event
Great Scott is your ticket to an unforgettable event, where the music moves your guests to dance and sing along to the greatest hits, from the '70s classics to today's chart-toppers. What sets us apart? Our unique ability to read the room and play the perfect song at the perfect moment.
Our lineup options start with the dynamic 5-piece ensemble featuring two guitars, drums, bass, and piano, accommodating a range of budgets and venue sizes, from intimate gatherings to large-scale events.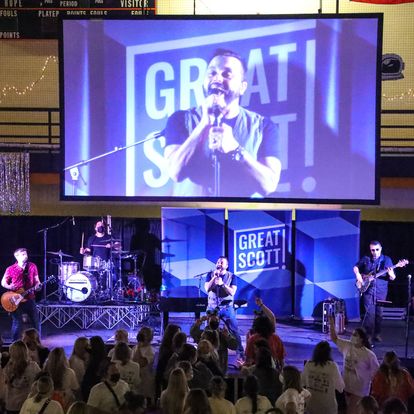 Our performers are seasoned professionals who not only excel in their musical craft but also possess an innate sense of the crowd's vibe. We understand that every audience has its own personality, and we keep our fingers on the pulse, ensuring a seamless musical journey that keeps the party alive.
But what truly sets us apart is our commitment to sonic perfection. We've meticulously recorded ourselves in the studio, capturing every nuance that makes each song shine. From additional backing vocals to organ and synth tracks, extra guitar magic, and atmospheric soundscapes, our attention to detail enhances our live performance, creating a rich sonic tapestry that traditional 5-piece bands can't replicate.
Rest assured, our dedicated sound engineer ensures that every note is balanced and delivered at the perfect volume, ensuring your guests enjoy an unparalleled musical experience.
Book Great Scott today and let us transform your event into a lasting memory that will be talked about for months and years to come.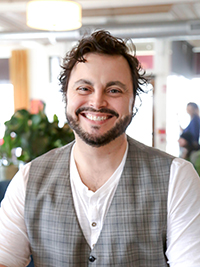 JOE LAUREANO – Band Leader
LEAD VOCALS • KEYBOARDS • HARMONICAS • AUX PERCUSSION
Joe has been performing rock-&-roll professionally for his entire adult life. He began his journey graduating from Otterbein College with a Bachelor's degree in Music Theory & Composition. Since then Joe has accumulated over twenty years of performing at wedding receptions, corporate parties, fundraisers, dueling piano bars and more. The high demand for his talent has lead Joe to entertain all across the country–from Miami to Seattle, and from Baltimore to San Diego.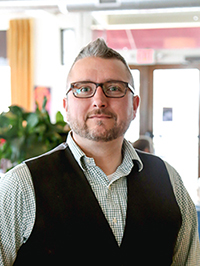 RYAN GOLDNER
BASS • DRUMS • VOCALS

Ryan has been playing music since 6th grade. He has played a wide range of instruments including trombone, baritone, tuba, bass guitar, guitar, and drums. He has played with countless numbers of groups with styles such as rock, pop, jazz, blues, and R&B. Music has been a true love of his and he is humbled to be able to do it for a profession.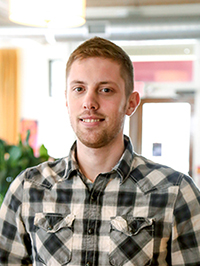 KEN RYPMA
DRUMS • PERCUSSION • VOCALS

Ken has been playing drums since he was in middle school and picked up guitar on his own his junior year of high school. His musical dream took a back seat during his college years, until 6 years ago, when he started participating in an open mic night session by playing acoustic guitar and singing. Playing with Great Scott is a new musical adventure and he loves every minute of it!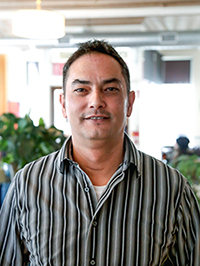 EVERETT DOMEIER
LEAD & RHYTHM GUITAR • ACOUSTIC GUITAR • VOCALS
Everett comes from a very musical family and began performing live with his parents while still in elementary school, and he hasn't stopped since! In his 35+ years in "the business", Everett has played guitar for many of the great bands in West Michigan, and is also an accomplished drummer and bassist. Occasionally you might see him play lap and pedal steel guitars, mandolins, ukuleles, harmonicas – if you can make music with it, Everett can play it!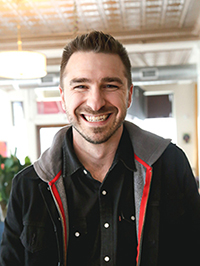 LUKE GALAS
LEAD ELECTRIC GUITAR • ACOUSTIC GUITAR • VOCALS

Luke is an extensively trained classical guitarist, having studied with many great players in the Grand Rapids area and completed GRCC's performance major program. He has since spent the last several years teaching music and performing in various bands. Luke has always enjoyed playing in different styles and changing things up. With that, he is able to pour all of his technicality and talent into an energetic rock-&-roll show.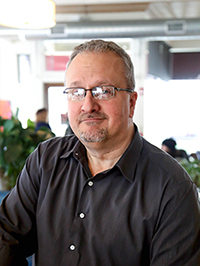 MARK KUIPER
SOPRANO, ALTO & TENOR SAXOPHONE • KEYBOARDS

Mark is from the small town of Otsego, Michigan where he began music in the middle school band on saxophone. His interest in music continued to grow through high school and he went on to study saxophone and voice at Western Michigan University. After college, he made his escape and began performing in Florida, joining a buddy's band. The next 27 years were spent as a lead singer, sax player, wedding singer, solo performer and dueling piano player. Mark heard Michigan calling and came back in 2015. He loves being back in his old stomping ground!